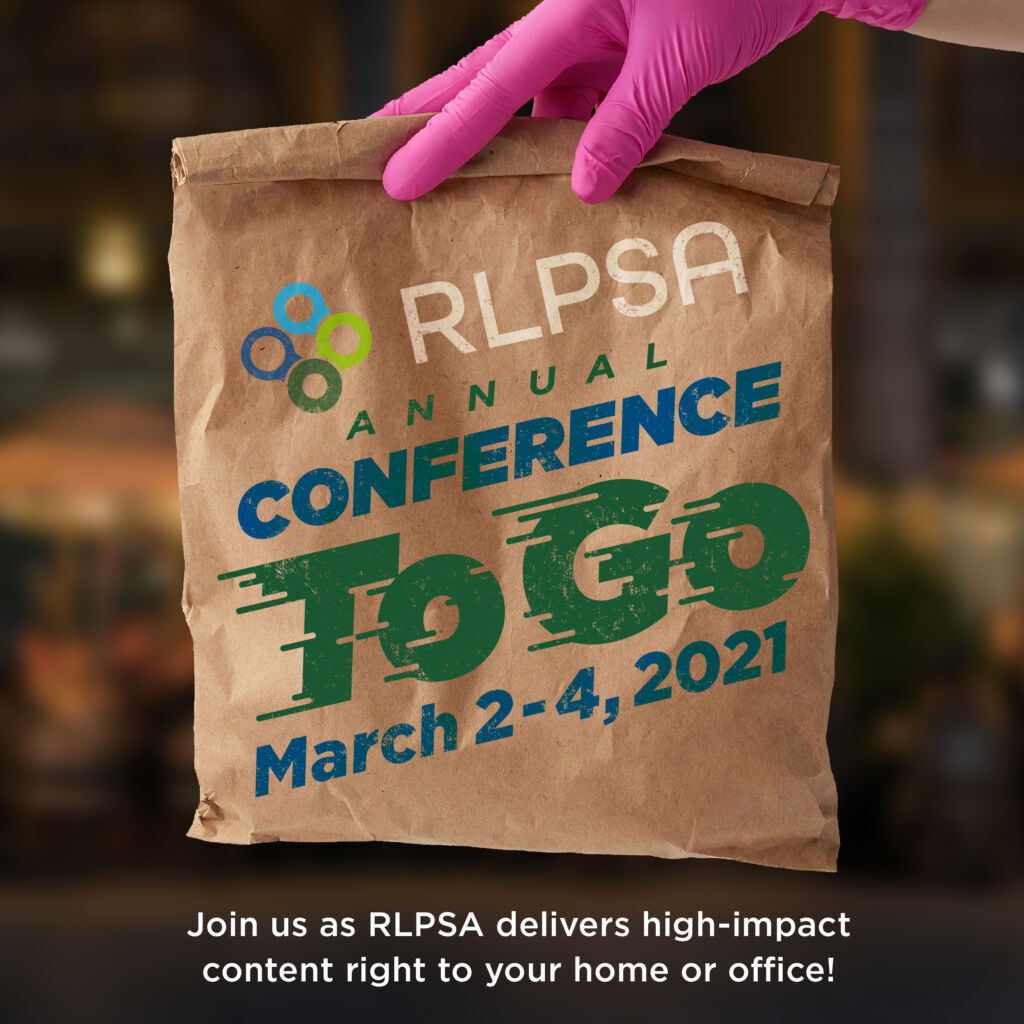 LOSS PREVENTION. SECURITY. RISK. SAFETY.
2021 RLPSA ANNUAL CONFERENCE "To Go"
March 2 – 4, 2021
Delivering you world-class content "To Go"
Due to the ongoing global pandemic, RLPSA will now deliver it's world-class content right to your door!  Expect the hard-hitting content you've come to expect from RLPSA in a LIVE virtual environment that's casual and entertaining!
Here's the schedule:
Tuesday, March 2 – 10 a.m. to 2 p.m. CST – Inspiring Keynotes and Critical General Sessions including:
"Getting Comfortable with Uncomfortable Conversations: Diversity & Inclusion" presented by James Fripp, Chief Diversity Officer for YUM! Brands, and Steven Antoine, Chief Security Officer for YUM! Brands
"Domestic Terrorism: The New Normal" presented by David Johnston, Senior Director, Loss Prevention & Corporate Security, Inspire Brands, Dan Moren, Senior Manager, Global Security & Resilience, Starbucks, and FBI / Federal Law Enforcement
"Predicting Social Unrest: The Tools and Tricks" Ryan Long, Global Head of Intelligence and Executive Protection, McDonald's
"Steering Your Ship Through Rough Waters: Lessons on Leadership" Captain Richard Phillips. Captain Phillips was rescued by Navy SEALs after being captured by Somali pirates
Wednesday, March 3 – Noon to 4 p.m. CST General sessions and breakouts including:
RLPSA Organizational Update from RLPSA President Octavio Jara, McDonald's and Amber Bradley, Executive Director, RLPSA
"Drive-thru & Curbside: Balancing Safety & Security with Speed & Accuracy" with speakers from Chick-fil-A, Darden and others
"Building and Executing a Risk Audit" presented by Wendy Hans, Director of Fraud and Loss Control, AMC Theatres
"Building & Maintaining Franchisee Relationships for LP, safety and risk success" presented by Van Carney, Director of Loss Prevention, Safety, and Security for Domino's and Mike Kahn, Owner of one of Domino's largest franchisees, MSK Mgt, LLC and MSK's Loss Prevention Director, Matt Toso
"Loss Prevention in an Environment of Second Chances" by Jason Swanson, MOD Pizza
Closing Keynote: "ADAPT: Overcoming Adversity" presented by Major League Pitcher Jim Abbott
Thursday, March 4 – Noon to 4 p.m. CST – Valuable breakouts and Wicklander-Zulawski & Associates closing out "To Go!"
"Managing Multiple Brands for LP Success" presented by Christopher Magana, WKS Restaurant Group, Dan Lieberman, Southeast QSR and others
"Flushing Out Restroom Risk & Liability" presented by Bill Moore, Director of Safety and Security at Eat N Park Hospitality Group
"Constantly Innovating for Delivery Safety & Security" presented by Van Carney, Director of LP, Safety, and Security for Domino's, Craig Jones, Senior Manager Safety, Security, and Loss Prevention at Papa Johns
"The Loss Prevention Case Through a Prosecutor's Eyes" presented by Kimberly Overton Spahos, North Carolina Prosecutor
Closing Keynote: "Everything You need to know to De-escalate a Tough situation," presented by Wicklander-Zulawski & Associates' Joe Wolf, CFI
The cost for the "To Go" conference will be $149* per attendee. 
*Scholarships are available, contact Executive Director Amber Bradley to learn more!  Don't let budget get in your way!
No matter what your role is within your restaurant or foodservice provider, RLPSA's Annual Conference has relevant and valuable content to tackle difficult challenges as well as discover industry best practices from a variety of perspectives!
Wondering whether or not to attend, hear what attendees are saying:
"This was my first time attending, and it was the most valuable conference that I have EVER attended. Tops other LP conferences by a mile."
"The conference exceeded my expectations from format and content to topic options."
"Great speakers, small enough for intentional networking, brilliant tracks, operator and implementor focused…"
"One of the very best conferences, education-wise, that I've been to."
"There was great content and the speakers were very motivating."
"Great layout, easy to get around and easy interaction with solution providers."
"[The most impactful element to the RLPSA conference was] being able to network with other peers from other chains. It's very helpful to be able to build partnerships and work together to develop solutions to the most pressing issues in our industry."

Octavio Jara LPC
Sr. Manager of Security, McDonald's
President of the RLPSA
You are truly missing out if you are not a member of the RLPSA. We stay intimately connected beyond a conference. Join today and experience what an organization should do for its members.

2019 ANNUAL CONFERENCE WRAP UPS