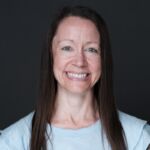 NASHVILLE, (July 10, 2023) – To meet the demands of the growth experienced by the Restaurant Loss Prevention & Security Association (RLPSA), the organization has added the new role of Associate Director. The RLPSA organization is proud to announce the hiring of industry veteran, Rebecca Alexander.
"I'm pleased to add Rebecca Alexander as my new Associate Director," said Amber Bradley, Executive Director of RLPSA. "Rebecca's deep knowledge of the restaurant/QSR industry and the challenges faced by companies and franchisees from a loss prevention and occupational safety perspective makes her the perfect fit for this role. Her background in restaurant operations, loss prevention, occupational safety and risk give her a holistic view of loss avoidance and its impact on the bottom line."
"I am excited to have Rebecca in this role as RLPSA members will benefit from her experience and expertise," said Kurt Leisure, President of the RLPSA. "Occupational safety is sometimes overlooked in industry associations. Companies and franchisees are facing the same challenges, and I am thrilled to have Rebecca join us to help our members build their knowledge and reduce risk while simultaneously decreasing loss and improving occupational safety."
Rebecca began her career in the restaurant industry in 2001 with Starbucks Coffee Company. Her experience includes store operations and management, loss prevention and asset protection, project management and consulting, and occupational safety and compliance. For the last nine years, Rebecca supported the occupational safety program for Starbuck's company-operated retail stores in the U.S. This included both managing and updating written safety programs to ensure compliance in all 50 states, as well as leading field teams in investigating and resolving occupational health and safety regulatory complaints and inspections in both federal and state-run programs.
Rebecca holds the Certified Safety Professional (CSP) designation through the Board of Certified Safety Professionals (BSCP). Rebecca also serves as a board member-at-large with the Puget Sound Chapter of the American Society of Safety Professionals (ASSP), leading the chapter Women in Safety Excellence (WISE) group.
About RLPSA
The RLPSA's goal is to help make our members more efficient and successful in their careers by serving as the "go-to" resource for restaurant and food industry loss prevention and security, risk, and safety professionals. Investigate your company's membership rate here and join today: http://rlpsa.com/join-us/