Meet RLPSA's Board Member, Scott Elkins, President at Universal Atlantic Systems, Inc., (UAS), a national provider of leading integrated security systems, in our RLPSA Member Spotlight.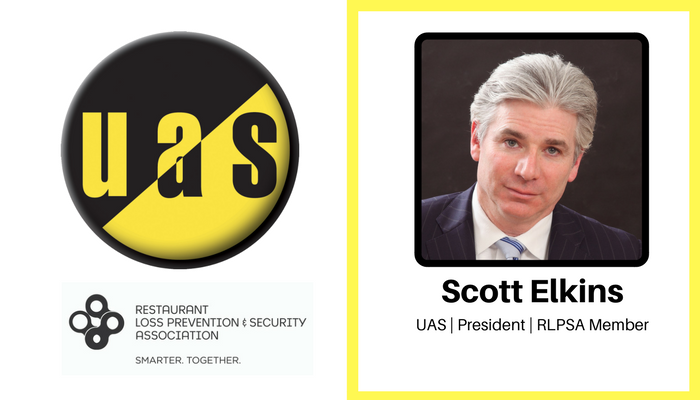 What is your greatest quality/strength you are best known for?
Hard work. While working smart and surrounding yourself with great people is certainly a key to success, none of it comes together without an unyielding commitment to hard work.
What would you consider to be your area of expertise?
Building a service-based organization focusing solely on the customer experience.
What is your greatest professional achievement?
Creating and leading the only truly centralized national account Security Alarm and Services Company in the industry.
How long have you been working in the food industry?
I have had the pleasure of working closely with QSR for nearly 30 years.
When did you first become involved with RLPSA? What benefits have you gained as a result of this partnership?
I attended my first RLPSA (at the time NFSSC) meeting in 1993 (24 years ago) in Lake Geneva, Wisconsin. Being a part of RLPSA has given me the opportunity to develop long standing relationships, and most importantly learn from the very best in both the member company and solution provider communities.
What advice would you give a millennial as they launch their new career?
As millennials represent the future of QSR, both from the industry and customer side of the "front counter", their unique voices and perspectives must be heard. In doing so, I would encourage millennials to identify what qualities are important to those generations that come before them – those that they will be working with – and tune their message to a frequency that everyone can hear. While the old guard needs to listen, it remains incumbent on millennials to figure out a way to be heard.
What do you enjoy doing outside of work?
I love to travel internationally with my wife and sons (20 and 17). Being far away from home provides us with an opportunity to experience new things together and enjoy each other's company without the distractions in our traditional day to day lives.
If you could be anywhere in the world right now, where would it be?
Iceland. Best Elkins family vacation to date. Geysers, volcanos, black sandy beaches, and the famous blue lagoon. It's like being on another planet yet only a short (6 hour) plane ride from home.
What is your favorite book?
Business: Good to Great, Jim Collins. A must-read for leading a service organization.
Non-Fiction: Shadow, Bob Woodward. The truth is always the best option.
Fiction: Of Mice and Men, John Steinbeck. At a young age, this book stoked my passion for
reading that is as strong today as ever.
To learn more about becoming an RLPSA Member and gain exclusive access to member-only resources, visit: rlpsa.com/join-us.