Prevent Phone Scams with RLPSA Tool Kit for Restaurants
NASHVILLE, November 2, 2018 – The Restaurant Loss Prevention & Security Association (RLPSA) has created a tool kit to help its members prevent phone scams by educating their employees.
RLPSA adds more value for its members with this tool kit and an active calendar of webinars and membership discussions.
RLPSA members can download these phone-scam materials now:
A print-ready poster detailing actions employees should do when confronted with a phone scammer
An infographic managers can post and use to educate their employees
An entertaining, two-minute video helping employees know what to do: Hang up and report it!
RLPSA's Board President, Ken Gladney, said, "RLPSA is taking the lead on this critical challenge facing restaurants today. These materials are ready to go for restaurants to print, download, and post for the front-line employees."
Restaurants are encouraged to contact Amber Bradley about membership and how to obtain these materials. Contact Executive Director Amber Bradley at amber.bradley@rlpsa.com.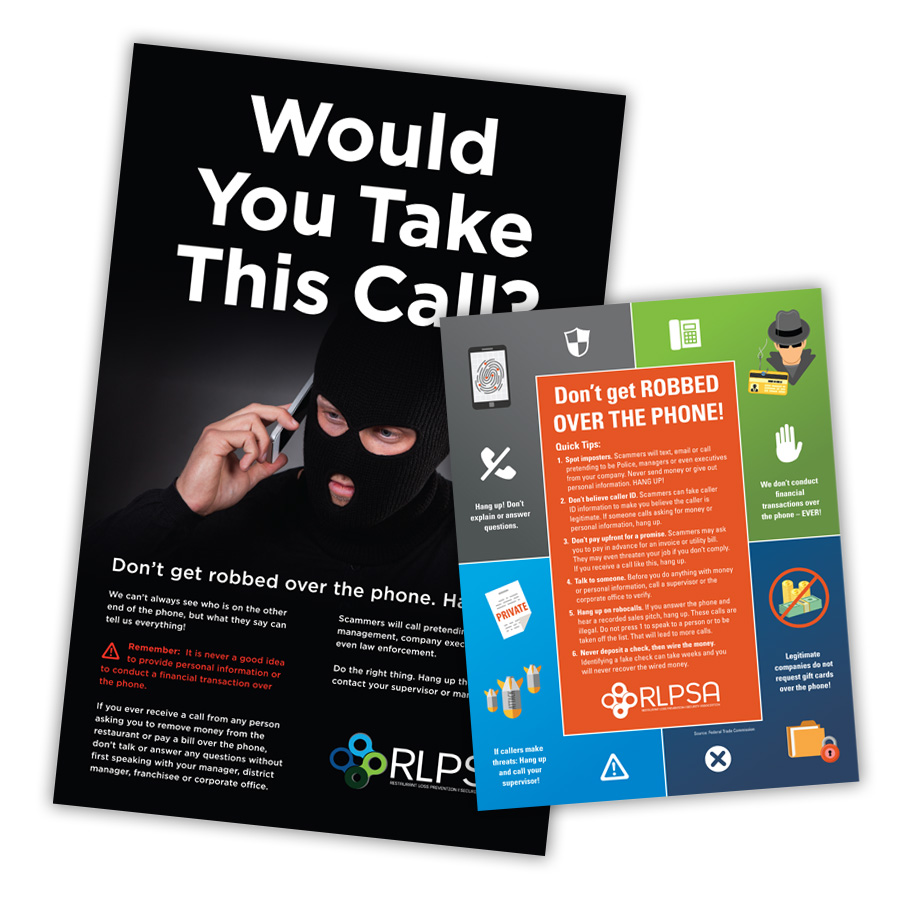 Upcoming Events:
Webinar: Delivery Risks vs. Rewards
November 8 at 1 p.m. CST
Hear expert hospitality lawyer David Donna discuss the risks of delivery from a legal aspect, whether using a third-party source or your own internal employees.
RLPSA CONNECT in-person event
November 15 from 8 a.m. to 6 p.m. at the Domino's World Headquarters
This free restaurant-only event is a one-day powerhouse workshop with sessions addressing local and federal law enforcement partnerships, handling media in a crisis, interviewing and interrogation training and more.
See the agenda here: http://www.rlpsaannualconference.com/rlpsa-connect/
Webinar: CCTV: The difference between IP and Analog
November 28 at 9 a.m. CST
CCTV can often be confusing! Join RLPSA and Axis Communications in answering some CCTV 101 questions such as: How do you know how and when to use what camera? What is the difference between IP and analog, and which one do you need? Join us to sort out all the differences to help make your decision!
Webinar: Cybersecurity Hats: Which one do I wear today? Presented by Rhett Asher with Fortalice, Executive Vice President and Director, of Retail Solutions
December 12 at 1 p.m. CST
Cybersecurity can be tricky to know what you should be focused on both personally and professionally. Join us for this informative webinar!
Webinar: RLPSA Payment Fraud Survey Results
December
Kount, Inc. will present its findings from our most recent research regarding restaurant-specific payment fraud.
About the Restaurant Loss Prevention & Security Association
The Restaurant Loss Prevention & Security Association (RLPSA) is the nation's only trade association dedicated to loss prevention, security, and risk management professionals in the restaurant industry. As a member-run organization, the mission of RLPSA is to provide a conduit for knowledge on the hottest industry trends, and to connect a network of peers who understand the unique challenges of the job and collaborate to drive the next generation of solutions.